EARTH WORKS
THE MOTHER HOLE began in concept as an environmental "well" for asking my deceased mother, Hazel, the nature of death. Digging a hole is a metaphor for plunging deep into the self, for birth as well as death, and the struggle that the mythologist Joseph Campbell calls "the hero's journey"; the one who completes a difficult passage, often underground to discover the truth, and later returns to bring back what she has learned. In my case I found power, courage and ingenuity.
Twenty-eight paintings on paper of imaginary burrows, holes and tunnels accompany The Mother Hole. All are mixed media on paper at 11" x 14", 11" x 17", or 22" x 30".
THE HUT IN THE FIELD is a hand harvested, hand constructed thinking place inside the silence and sounds of Peacham Vermont's wild nature. I made it over a year's time to fit my body and enclose me like a shaggy womb. The final boughs and leafy branches were added in collaboration with Cynther Greene of Peacham.
Digging the Hole – 2012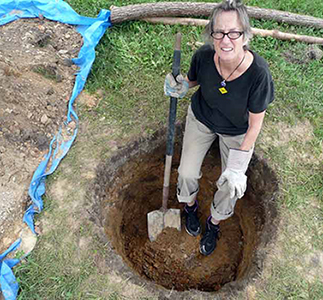 42″ diameter x 5'6″ deep, earth marble, aspen, twine
The Carving Studio & Sculpture Center, W. Rutland, VT, 2012
Hole Paintings and Drawings – 2011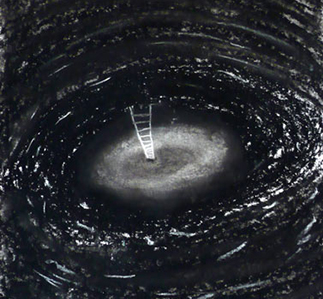 Mixed media on paper, 11″x14″, 11″x17″ or 22″x30″
The Hut in the Field – 2014-15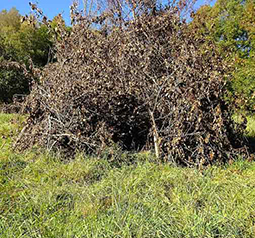 Sticks, leaves, and branches, 12′ high x 9′ diameter – approximately one and one half times my body length.